Top 5 Marketing Mistakes You Should Avoid To Keep Your Business From Failing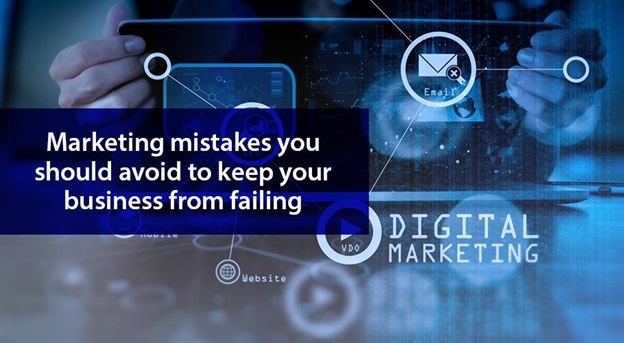 Running a company isn't a smooth journey. There are factors involved that significantly affect the company's success rate. One of them is marketing. Marketing is the foundation of every business plan and a critical element that can't be overlooked under any circumstance. The right marketing campaign has the power to expand your customer base, double your revenue, and strengthen your business's financial stability. A solid market strategy can actually do wonders for your business, but thoughtless marketing can prove dangerous.
Even the most powerful companies in the industry make mistakes. Learning from those mistakes is what doubles their value and profit. As a small business, there's not enough room to make mistakes, especially marketing mistakes. Marketing your product or service shows how much effort is behind it, how much the company cares for its products, and how they connect with the audience. Employing useless marketing tactics in your plan does no good for anyone. The last thing you want is to lose potential customers because of a small marketing mistake.
Fortunately, marketing failures often allows everyone to learn and refine their marketing strategies. Avoid losing clients, dropping sales, and damaging brand image by dodging these 5 common marketing errors.
1.     Not understanding your target audience
Lack of research and understanding can cost your business more than just your clients. Your company's future depends on how carefully and thoroughly your future goals are planned, and the first rule of marketing understands your target market. Save time and money by conducting in-depth market research to make future predictions. It gives you a glimpse of how the public will react to your campaign's launch.
If you don't know the hobbies, likes, and dislikes, and the audience's problems, connecting with them might seem almost impossible. The goal of your marketing campaign should be to relate to the audience. Only then will you have a solid chance to beat your competitors. Come up with new packages, offers, prices, and promotions and notice how the public responds to each. This move will help you cross out unpopular and ineffective ideas before investing all your money and time into their execution.
Testing your campaigns with a local and international audience is always a good idea to avoid huge blunders.
2.     Not focusing on the USP
A USP or unique selling proposition of your business should be your point of focus. It's this element that sets your business apart from the rest. The market is heavily flooded with competition targeting the same domain you're competing in. It would help if you had a competitive edge to set you apart. To get ahead of the competition, highlight what's unique about your product or service. Are you offering high quality at a low price or bringing innovation to the market? Is your business selling rare and uncommon material or resources? What is 'it' that makes you unique?
Consumers have many businesses asking for their attention. Unless you offer them a definite USP, your brand will most likely get lost in the competition. Avoid being overshadowed by targeting your USP in every marketing campaign. It will help others recognize your brand instantly.
3.     Not focusing on current customers
Your marketing campaign should target both old and new customers alike. If you put all the company's money, resources, and time into advertising for new customers, it's easy to lose current customers. Small businesses are always thinking of ways to grow their customer base, but it's also important to value existing customers. Catching your attention shouldn't become a triggering challenge for them.
You can always target existing customers in several ways. After the sale, stay in touch with them, email them new offers and promotions, and follow up on customer feedback. Repeat business creates valuable revenue. You don't want to deal with lost revenue because of incomplete focus. Existing customers are more willing to buy and invest in your products regardless of the price tag.
There's not much at stake with existing customers; however, with new customers, you have to spend more money, time, and resources acquiring them. This marketing mistake has led big companies to lose valuable resources.
4.     No social media activity
Social media has changed the way we connect with the outside world. You will find almost all big and small businesses on social media platforms. However, sometimes, small businesses forget the power of this marketing tool. You don't just make a Facebook page to leave it as it is. You must connect with the audience and build your brand. This marketing tool can be used to track customer behavior on social platforms. Use your research and marketing plan to create brand awareness, communicate openly, create content, and engage with customers.
Social media marketing goes beyond stories and posts. Create content your audience can relate to and stay consistent. Communicate with your customers through comments, messages, and contests. Boost brand visibility and establish an online presence through social media. With its high-speed internet, AT&T internet service helps you stay connected with your audience on all social media platforms
5.     Not being authentic
Unless your marketing plan is original and authentic, your marketing efforts will be useless. Your marketing campaign should focus on authentic messaging, original content and be brand-focused.
One of the many marketing mistakes companies make is forget to focus on the brand's values, mission, morals, and ethics when creating content. Content comes in different forms: articles, blogs, Instagram stories, Facebook posts, and tweets are some examples. If your comment comes across as tone-deaf or your tweets seem unnecessarily petty, people will have a negative image of your brand. They might not at all believe the authenticity or the originality the business believes in. If you don't practice what you preach, your audience will not trust you or your brand.
Brand loyalty and image should always be a priority when creating a marketing plan. Ensure brand credibility and authenticity through the messages you deliver.
6.     Not focusing on positioning
Brand positioning gives you the opportunity to build hype before you launch a new product. Unless you create a strategic marketing plan that highlights your brand positioning, you cannot stand out from the competition. You want your customers to associate your brand with positivity, and therefore, how you design your brand position strategies matters a lot. They help shape preferences, which boost consumer loyalty and conversion rate.
As long as your strategy shows your brand as unique, credible, and original, you're good to go. To create a successful positioning, you only need to understand 3 things. What your customers want, what your brand is capable of, and your competitors' positioning strategy. To enter new markets, you have to take a risk to be perceived differently. Understanding consumer's mindsets and their approach is key to becoming successful.
The Bottom Line
Marketing mistakes are common, but that doesn't mean they can't be avoided. Carefully plan a proper marketing strategy and reflect on its progress. Set key performance indicators for your business to track progress. With time, shift focus towards understanding your target audience and their needs and avoid these 5 marketing mistakes to create a smart marketing strategy that works!
Baldwin Jackson is a successful digital marketer with expertise in search engine optimization and content marketing. The perfect balance of his analytical ability and creative thinking is what sets him apart from other practitioners in the digital marketing realm. He has helped a lot of small and medium-sized businesses in crafting their digital marketing strategies that are not only cost-effective but delivers results as well.
Baldwin is also a proud father of two kids and a Sports enthusiast. When he is not working, you will find him watching ESPN and NFL network. He has been able to get an amazing package on his favorite channels from Buytvinternetphone.com.