The Best Things to Know About a Large Dog Door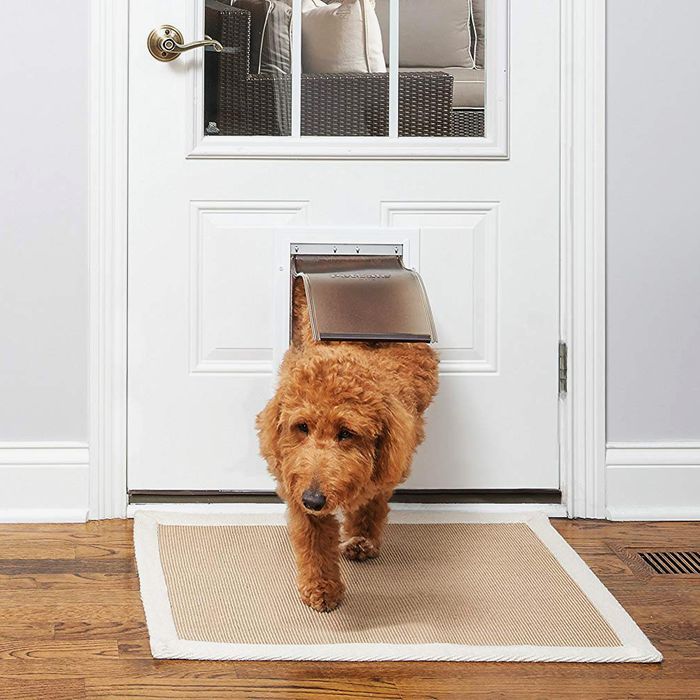 Large dogs are famous for their large personalities. It doesn't take much for big dogs to take over a room with their presence! They're fun-loving, hard-working, and are eager to please us. They might not realize their size on the couch (or your lap), but they are always our loyal companions. They also love to exercise. Outdoor activities are especially healthy for large dogs, and dog doors are a simple way to accomplish this health goal. Large dogs have their own set of needs, and so do the dog doors that fit them. Here's what you need to know if you're thinking about getting one for your gentle giant. 
Measure Once, Check Twice
Properly measuring your dog makes a big difference in the size of your dog door! To measure the door, you will need to capture the dog's width and height. You will also need to measure her for the rise of the door. It never hurts to check your measurements twice, especially for a large dog door. If your dog is a young pup, it is best to wait until she is fully grown to get a new pet door. That way, the chances of running into unpleasant surprises are much less. 
Be Prepared for a Little Elbow Grease
A large dog door may require basic carpentry skills to install. There's a lot more involved than sticking the door in a hole. You will need to determine the door placement, and then know how to cut out drywall, wood, and insulation. You will also need to know how to install and seal the edge around the door. If the idea of fussing with this isn't your cup of tea, consider asking a handy friend or neighbor to help you. It is important for the hole to be cut and sealed right in order to prevent leaks. 
Choose a Durable Pet Door
Durability is probably the most important priority for a large dog door. Everything your companion does in his normal day-to-day is larger than life, from running to chewing to wagging his tail! He will definitely need a door that's durable enough to keep up with him. If there are plastic parts, for example, ensure that they are thick and tough enough to withstand large teeth and paws. 
Large Doors for Large Personality Pets
We love large dogs for their big, goofy personalities bringing smiles to everyone. If you take care of large dogs, give them what they deserve with a quality pet door that's just their size. Trips to the bathroom and outdoor exercise become much easier, and your pet will get to enjoy the fresh air.